Hello there, folks! It's me again, here to present to you Nata. I spent some of the morning working on him, so please feel free to comment on this. Anyway, you can see some images of him below: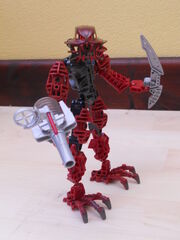 If you are wondering what he's holding in his right hand, I think it's some kind of launcher but I don't actually know the name of it (any help would be appreciated). This is probably the first time where I've given a MOC chunky arms and legs, and also used that Kanohi mask. On the whole, I think I made a pretty good job of making him, and the colour scheme I've used suits him well. 
By the way, Nata is entirely my design - he wasn't supposed to be based on anyone else's MOC, and I made him from scratch and used my own ideas. 
Ad blocker interference detected!
Wikia is a free-to-use site that makes money from advertising. We have a modified experience for viewers using ad blockers

Wikia is not accessible if you've made further modifications. Remove the custom ad blocker rule(s) and the page will load as expected.